<![if !vml]>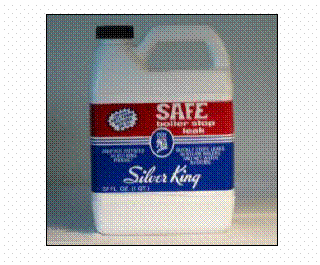 <![endif]>
SAFE LIQUID BOILER STOP LEAK is scientifically formulated to form a water insoluble seal in steam and hot water boilers and entire hot water systems including radiant systems.
Safe to use in all boilers
Contains no petroleum or hazardous components
Will not sludge or clog
Will not surge
Compatible with propylene glycol and ethylene glycol anti-freeze
INSTRUCTIONS
Drain system until water level is 2 inches below normal level. Shake well, pour SAFE LIQUID into any opening. Replace fitting. Raise water level until all leaks are covered. Heat water to 140° until leaks are sealed. OR mix SAFE LIQUID with water in a pail and inject directly into boiler drain with a SILVER KING Force Pump. Maintain heat until leaks are sealed.
Use one quart for each 110,000 BTU's of boiler rating.
<![if !vml]>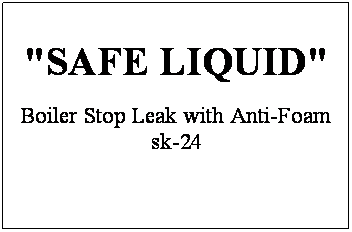 <![endif]>
---
Non-phone inquires: silverking@silverkingmfg.com
Also find us at the Thomas Register